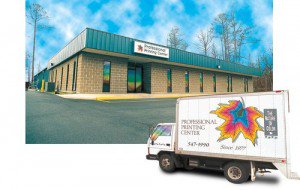 For over 30 years Professional Printing Center has been providing our clients with economical, high quality multi-color printing. You can expect a greater level of service because every employee of Professional Printing Center makes customer service their number one priority. We are available to assist you with every aspect of your project. Our experienced staff of professionals are dedicated to their craft and take pride in producing a superior product for you. With the continued acquisition of state-of-the-art equipment, we expect our tradition of service to continue well into the future.
Whether you are supplying us with an electronic file, or your project requires layout and design, our prepress technicians are capable of handling both. We support Mac and PC platforms. Our in-house proofreading service sets us apart from our competitors. As part of our standard service, our full-time proofreader checks your documents for spelling, punctuation and grammatical errors.
Our modern press room houses Komori and Heidelberg presses with up to 40″ capabilities. This allows us to efficiently match the right press to your printing job. Stochastic screening enables us to produce high impact, near photographic quality images with richer colors, sharper texture and finer detail.
Professional Printing Center is able to produce conventional offset quality from our digital press. This technology provides an economical solution for short run full color work, Print-on-Demand (24 hour turnarounds) and high end variable-data printing.
We provide data services including creating a mailing list to your specifications and demographics, managing, and securely storing your data bases. Professional Printing Center offers complete domestic and international mailing that includes intelligent mail bar-coding, addressing, matched mailing and inserting. We analyze the layout of your mail piece to ensure you receive the best postage rate available. If a minor alteration in design or size would result in a significant savings in postage, we will present that option to you.
With in-house capabilities that include UV coating, folding, book binding and die-cutting, our full-service bindery transforms your piece into its finished form. Our fulfillment resources are capable of collating, inserting, kitting and preparing special packaging for all of your printed and unprinted products. We can accommodate large roll-outs, assemble, sort and ship on-demand or we can maintain your materials carton-packed for staggered shipments throughout the year.